Executive Protection Services
Protection is not only for the rich and famous
At LANCAS, executive protection means more than instilling a simple sense of security. It means providing our clients with the confidence that their safety is our absolute priority, all the while giving them an excellent service that keeps their days going uninterrupted (and most often, more efficient).
Our protection team comes from a background of military, federal law enforcement and the private sector with diverse experiences working with the elite both locally and internationally. With LANCAS you will have an exclusive and professional team that is focused on providing you with the highest level in service and protection.
Our Approach
LANCAS provides a seamless executive protection solution that ensures our client's day-to-day activities are not impacted by our presence, where we focus on executing the job with the utmost discretion and professionalism from our specialists.
We provide overt or covert protection based upon our threat, vulnerability and risk assessments, as well as our client's preferences. Our legal division, investigations division and executive protection division work closely together to ensure that potential risks are identified and avoided before they can become threats to your high valued assets, your company or… you.
Our team is ready right now to create & implement a personalized plan that works best to keep you, your assets AND your brand safe and moving forward.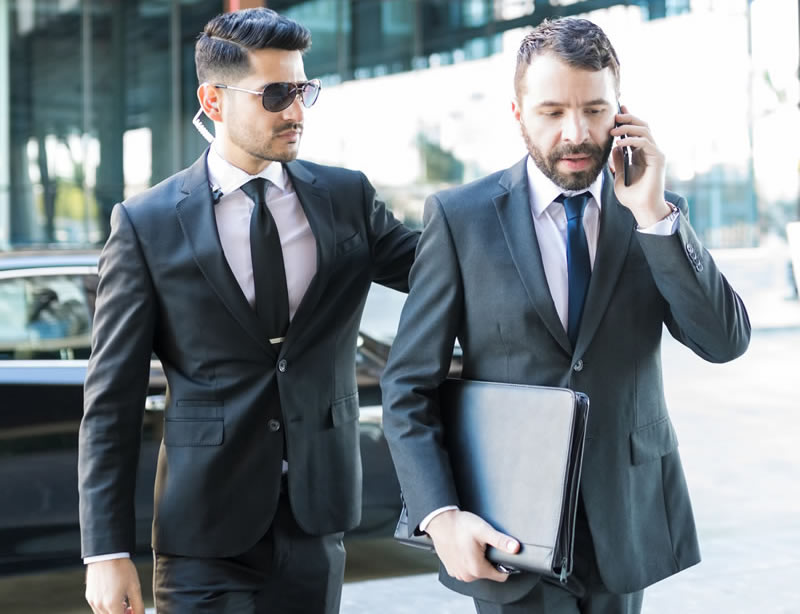 "Not only did we feel safe, but the days felt more productive than ever! Can we have EP agents forever!?"
WHO WE SERVICE: LANCAS conducts Executive Protection and Consulting services for clients such as:
Persons at-risk
High Net Worth Individuals (HNWI)
Persons of Influence
Persons in the public eye
Political figures
Corporations
Manufacturing plants & distribution centers
Transport and cargo
Domestic and international dignitaries or royalty
Churches, mosques, synagogues and religious leaders
News media and journalists
Lawyers and Law Firms
HOA's and Communities
WHAT SERVICES WE PROVIDE: While all matters are tailored precisely to our client's needs, below are some services we offer to our executive protection clients.
Personal Protection
Perhaps you are an HR rep who fired someone who solely attributes that decision to you, or a media journalist reporting in a volatile area. For some, it could be a rise in overzealous fans due to an increase in influence or popularity. Even the perception of wealth and status can be considered a liability in today's environment, in light of the events and happenings 2020 brought us.
Despite what the media portrays, personal protection services are for anyone who has a concern for their safety or feels threatened. You don't have to be a celebrity to need personal protection for you or your team. At LANCAS, we work tirelessly to keep clients out of harm's way, both physically and reputationally.
Workplace Violence Protection
Although many cases go unreported, the increasing numbers of workplace violence puts every business at the helm of ensuring their employees and infrastructure are safe. This can range from personal escorts during an event, presence at the office pre/post or during a termination, ensuring protection of threatened, highly valued materials that can severely impact continuity of operations if successfully targeted, among other scenarios.
Surveillance and investigation into workplace violence matters is something LANCAS also specializes in. These fields are commonly now overlapping the protection operation. Our knowledge and experience in investigations, intel and legal analysis integrates with and buttresses our protection operations, providing our clients with a robust and comprehensive protection solution. Our professional specialists are standing by to assist.
Event Protection
Weddings, fundraisers, corporate functions and your upcoming event are important to you and to us at LANCAS. Our protection specialists stand ready to protect you, your guests and brand image at a moment's notice. We provide overt and covert protection based upon our threat assessment and client preferences to ensure that protection services remain out of the spotlight and part of the pristine landscape (but always within reach).
Transport Protection
Transport and cargo protection services can range from providing secure transport for individuals, protecting the transport of high valued materials such as jewelry, cash, valuable merchandise, pharmaceuticals and other items that may cause a significant loss if interrupted during transport. We can secure a transport driver for you in the event of an internal threat/vulnerability risk. This can include protecting the transport of routine items in high risk areas or working during the late hours.
Natural Disaster and Hurricane Protection
We have a diverse group of skillful, licensed & experienced protection specialists who excel during natural disasters and who understand the threats of unstable areas, compromised infrastructures, navigating and overlanding damaged cities, quickly adapting to the local culture and filtering threat intelligence in real-time. Whether we're securing critical infrastructure, transporting corporate executives or even homeowners to or from a natural disaster area, our experienced bi-lingual and unique specialists are ready and able.
Yacht Protection
Pirates used to be a thing of imagination, but as recent times have shown us, modern day piracy is continuing to happen world-wide. From having an event onboard to traveling to the Bahamas for a short stay, we can supply you with the qualified agent to keep you and your extravagant vessel safe.
Estate Protection
Estate protection ranges from keeping the prized possessions of the home safe while the owners are traveling the world, or keeping the family and their new home-away-from-home safe, while they enjoy their vacation spot. Our licensed and experienced executive protection specialists provide a quick response for safety as well as excellent service.
Courtroom Protection
From court proceedings for injunctions and protective orders to taking a deposition in the same facility as an abusive spouse are just some examples that our agents are familiar with their role as protection specialists for our clients in these matters. Our experience and knowledge of the courtroom setting, trial procedure and deposition etiquette, enables us to provide an unmatched level of protection service in the courtroom.
Executive Protection Concierge Services
We pride ourselves in not only protecting our clients but providing an excellent service as well. We can accommodate and facilitate logistics, transportation and other unique services for your travel experience, including actionable and concise threat assessments of an area you plan on traveling to.
NOTE: We are not a security guard service, nor are we "rent-a-cops." We are executive protection specialists with elite training. If you are seeking an experienced and skilled EP specialist/team, you are in the right place. Contact us today.